Astronomy Picture of the Day
Entdecke den Weltraum! Täglich ein Bild über Astronomie und Raumfahrt aus dem Universum, zusammen mit einer kurzen Erklärung eines Astronomen.
8. Juli 2007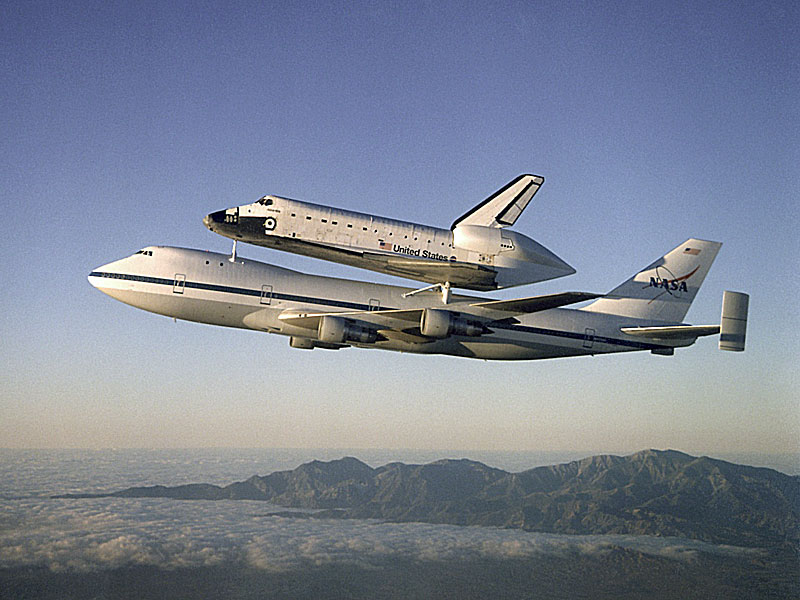 Shuttle Ferry
Credit und Bildrechte: Enrique Luque Cervigón (The Superspace)
Beschreibung: How does a space shuttle that landed in California get back to Florida for its next launch? The answer is by ferry. NASA operates two commercial Boeing 747 airplanes modified to carry a space shuttle on their backs. Designated officially as Shuttle Carrier Aircraft or SCA, the 747s were made for commercial flights but bolstered by NASA with several struts, stabilizers, and electronic monitors. Spanning about 70 meters in length, the two aircraft's combined mass is nearly 150,000 kilograms. Pictured above, the space shuttle Atlantis is shown being ferried back to NASA Kennedy Space Center in Florida in September 1998.
Das Bild von morgen: fernste Sonne
---
< Deutsches Archiv | Twitter | Facebook | Über APOD | Forum | Links | Impressum >
---
Originalseite: Astronomy Picture of the Day
Autoren und Herausgeber: Robert Nemiroff (MTU) und Jerry Bonnell (UMCP)
NASA-Sachbearbeiter: Phillip Newman Spezielle Rechtshinweise
NASA Datenschutz-Richtlinien im Internet und wichtige Hinweise
Ein Service von ASD bei der NASA / GSFC und Michigan Tech. U.
Übersetzung: XXX
Der Orion - Astronomie und Raumfahrt - von Eugen Reichl und Maria Pflug-Hofmayr